I've always assumed that my job as an ambassador for home milking would come with some glitz and glam, but last week I found out that–hang onto your hats, folks–I am not just a spokescow on behalf of EZ Animal Products, but a model!
I am of course, as phenomenal at modeling, as I am at everything else I do. My first modeling assignment is for our upcoming advertisements for the EZ Solar System, our first solar-powered milking system.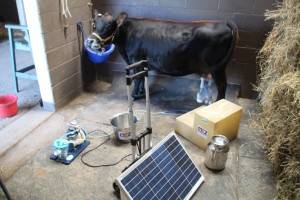 We know that some of our customers try to live "off the grid" as much as possible, for lots of reasons–to reduce their carbon footprint, or just to get back to the roots of country life. It occurred to our inventor, Buck Wheeler, (aka "The Human") that we could probably hook the Ultimate EZ milker that has proven so popular up to a solar panel and get the best of both worlds–the speed and comfort of the Ultimate EZ with the ease of a solar panel. I of course, had been pitching this idea since the day they hired me, but for some reason my emails kept going to his spam account–who knew Google would balk at the @ya-moo.com domain?
With some help from real home milkers, The Human has managed to do just that. The EZ Solar System takes about two days to fully charge in the sun, but the idea is that if you set the solar panel outside after each use, it should stay fully charged and ready to go. If you forget to recharge, you can plug it into your car's cigarette lighter and get it working again.
The Human has been using the Solar version for my morning milkings, and I can't tell a difference on my end–the Human still sets the pressure for the vacuum according to the instructions on the dial, and off it goes…still as comfy as ever. I keep munching on my grain during the milking process (hoping he'll notice that I need some sweet feed in my life), and before I know it, we're done. It's a little too quick, if you ask me…I rather like being fed inside, and that thing goes so fast I can't scarf down as much as I would prefer.
Bonus: If you forget, as The Human often does, to charge up your cell phone or iPad, the EZ Solar can help with that, too
Keep checking back for final pricing and availability–we should have the EZ Solar ready to purchase soon.